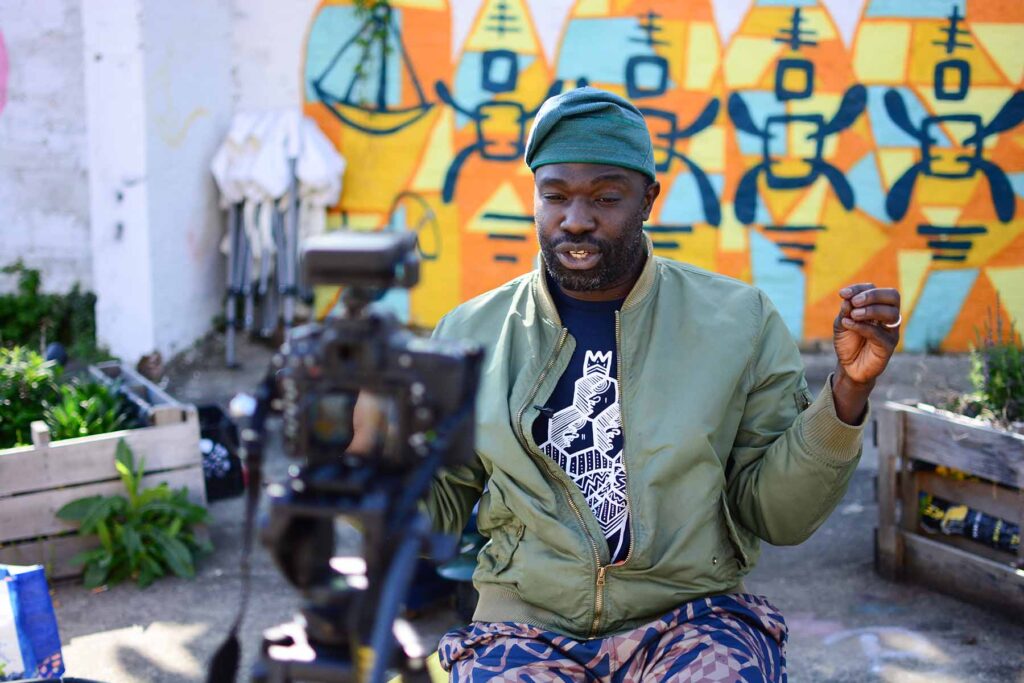 MANGROVE x Parsons EXCHANGE FELLOWSHIP
Apply by September 15, 2022!
The Mangrove Exchange program is a 6-month, paid fellowship program for Brooklyn-based community leaders. The first Exchange program will take place September 2022 – March 2023. It provides the opportunity to partner with the Parsons Design for Social Innovation and Sustainability (DESIS) Lab and Mangrove FC to develop community-led projects that improve the quality and access to food, home spaces, health, and community resources in Brooklyn neighborhoods.
The goal of the Exchange Fellowship program is to launch emerging, Brooklyn-based community leaders into the work of designing for neighborhood improvements through deep collaboration with neighborhood residents. Fellows will develop vital design, research, engagement, and project management skills through practice-based learning.
The topics and focus neighborhood(s) for the Exchange will be determined by the interest of the Fellow. Mangrove will use its networks to support the Fellow to build infrastructure for community participation, allowing community members to give shape to a project. The Fellow will be supported to find funding and other resources to continue designing and executing the collaborative development of the project alongside residents.
Program benefits:
The Mangrove Exchange is a unique opportunity to co-design new ways of accessing resources and solving community problems.
For a full year (6 months beyond the Exchange Fellowship), Fellows will have full access to all Mangrove workspaces, resources, and support staff as well as the opportunity to participate and work directly with the Parsons Transdisciplinary Design MA studio.
Fellowship benefits include:

Stipend of $30,000 per participant paid biweekly over the 6-month term
Full access to all Mangrove workspaces, tools, equipment, and classes for one year
Access to Parsons facilities, staff, and students for one year (TBD)
Support with accessing funding opportunities
Project development support from Mangrove, Urbane, and Parsons staff
Direct experience working with community organizations and local government

Opportunities to join or collaborate with active community development projects across Brooklyn led by Mangrove and/or Urbane
EXCHANGE COMMITMENTS:
We asked that the Fellow commit to the full 6-month term of the Exchange, working 30+ hours per week. Each week will likely include a combination of off-site direct community outreach and flexible working time completed at home or in the Mangrove Design Studio Workshop. One day each week will be spent in classroom workshops with the Transdisciplinary Design Studio at Parsons School of Design.
Fellowship requirements:
Commit to the full 6-month term of the fellowship
Work 30+ hours per week
Attend all meetings, workshops, and tutorials
Organize regular community forums, events, and gatherings
Create weekly work plans and progress reports
Periodically participate in Mangrove and Parsons programming
Develop a detailed program/project plan that includes the following elements:

Feasibility and needs assessment
Risk assessment
Project budget
Funding/fundraising plan
Project scope and timeline
Impact assessment and impact measurement criteria
WHO ARE WE LOOKING FOR?
We are seeking leaders and collaborators who are tuned into their communities; dedicated to improving life in Brooklyn neighborhoods; excited to work with a diverse array of people; open to tapping into local resources and networks; and interested in growing a practice for building or preserving community culture, health, and wealth.
There are no experience or educational requirements to apply, but ideal candidates are eager to apply experiences they have gained through any aspect of life and to learn new skills and practices.
The Exchange is a good fit for people who:
Have strong communication skills
Like to learn from and listen to people; are skilled at encouraging others to engage
Spend time among diverse in age, cultural, and economic backgrounds
Have experience with compassionate and open listening, for example through customer service, social work, family care, or other community engagement work or personal experience
Are highly conscious of the challenges as well as the strengths, knowledge, and talent in their communities
Seek to build a career or business that ties their passion to community engagement, co-design, and collaborative problem-solving
We are committed to supporting local leaders of diverse backgrounds through the Exchange. We will do everything we can to reduce barriers to participation for interested applicants from Brooklyn neighborhoods.